---
An untucked shirt looks sloppy and unprofessional and tucking it back in constantly becomes even more difficult. Nothing to think about! The Classy Belt Tie is the best and most convenient way to keep your shirt tucked against your body for the entire day!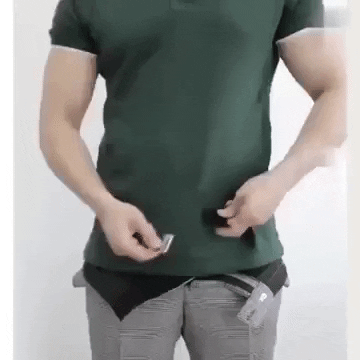 This belt is a slim profile belt designed to keep your shirt in place, similar to how the usual belt keeps your pants up. When put on, the belt will cover your shirt and keep it concealed at all times, ensuring that you will look professional no matter how much you travel the entire day. Looks no more uncomfortable from now on!
FEATURES:
TUCKED STAYS – 

Sit under your normal belt so that your shirt remains in place If it tucks out on its own, you don't have to tuck it in your shirt.
NO SLIP –

 

During use, we won't curl, shift, or loosen even while in motion. If you've adjusted, you should forget about it, and get back to the work.
STRETCHY –

 

Comes with elastic which guarantees comfort and comfort
Flexibility to match your every move, without any restrictions.

ADJUSTABLE 

– 

Fitted 

with 

a 

unique 

locking 

mechanism 

that 

makes 

it 

easy 

to 

adjust 

depending 

on 

your 

height, 

for 

a 

more 

comfortable 

fit.

RELIABLE –

 

Either way, keep your shirt tucked all day! Get your own Classy Belt Buckle, and now boost your looks!

WIDE SELECTION-Can be used in shirts, polo shirts, T-shirts available blouses, and for both men and women.
Package Includes :
1x Shirt Tucker Belt Strap